I enjoy helping people with unique or changing needs, and my primary focus is helping families caring for someone with Alzheimer's disease or other dementia. As a volunteer and advocate in my local community of San Diego County in Southern California, U.S.A., I have seen first hand the challenges they face. I'm also continually learning from the growing audience of Together in This who engages with me for support and guidance.
Brands and Businesses
As you will see, Together in This does not have ads but I am open to other partnering strategies such as, but not limited to:
Product reviews – these items must be a "tool" that a caregiver can put in their tool box. I also have a background in design and development of high-tech products, and love reviewing assistive technology.
Sponsorships – this could occur on our online training courses, podcasts, and I'm open to other ideas.
Consulting on product design – my 20 years of experience in high-tech and familiarity with the caregiving market can help you bring the right product to market.
Giveaways – let's collaborate to put your brand in front of my growing audience by providing them with samples and discounts.
Public speaking – I love teaching others and like to present in public. One of my last organizers said:
"My students and I enjoyed your presentation. I look forward to having you back again. If someone mentions to me they are looking for a speaker, I will definitely recommend you."
Bloggers and other Publishers
Be a TinT Contributing Writer – see the guidelines here.
Be a guest on The Alzheimer's Podcast – The Alzheimer's Podcast Guest Information 
Guest posts – if the fit is right, I'd love to share some aspect of Alzheimer's or other dementia with your audience.
Webinars or podcasts – I would love to share about Alzheimer's or other dementia on your show.
Group giveaways – if our niches overlap, we can collaborate on sweepstakes to introduce each other's site to our audiences.
Mike Good, Consulting, Design, and Implementation Services
I also very much enjoy the technical, marketing, and administrative aspects of building an online business. Over the past few years, I've utilized my engineering and management background (20+ years) to broaden my skill set to include many of the things you need, but don't have the skills for, to build an online presence and lucrative business. Learn More.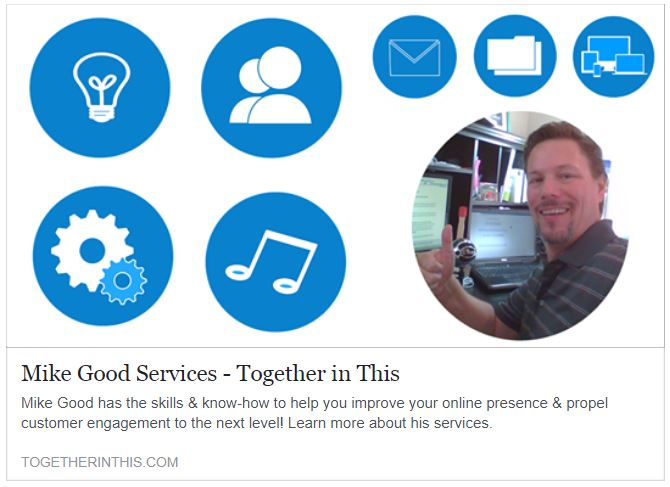 Please feel free to contact me at MikeGood@TogetherInThis.com with any collaboration ideas that you have; after all, were are Together in This.