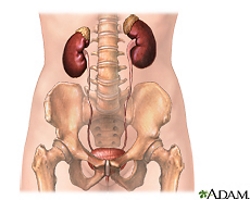 Urinary Tract Infections (UTI) are more common in older adults primarily due to weaker immune systems and a decrease in cleanliness due to physical or mental limitations.
A UTI can cause several behavioral symptoms in people with Alzheimer's or other dementia. Agitation, confusion, withdrawal, and hallucinations are just some of these symptoms.
A UTI is typically caused when bacteria enters the urethra. Treatment generally involves a prescription of antibiotics, but can become more serious if not treated quickly.
Good hygiene, clean undergarments, and hydration are good preventative measures that help keep then genital area cleaned and flushed.
Recognizing the symptoms of a UTI and getting prompt treatment can help prevent the spread of the infection, and help identify the cause.
The specially selected resources below will help you better understand this common but easily misunderstood condition.
Select a Topic Below for Specific Information*
---
Don't forget to Bookmark this page for quick access
---
*Together in This is not responsible for content on 3rd party sites