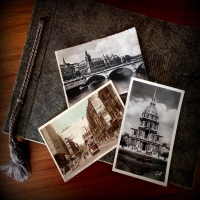 Caring for a person with Alzheimer's disease or another type of dementia has a unique set of challenges. But when you don't know the likes, dislikes, and personal history of the person with dementia, it is even harder to provide proper care.
Perceived behavioral issues make more sense when the person's life story is known. For instance, understanding what they did for a career may help explain their unique morning routine. Or knowing where they grew up may help identify music or traditions they enjoy.
Without this context, however, the caregiver may try to correct the actions of the person with dementia. This attempted correction often leads to further anxiety and frustration by both individuals.
In this article, How Sharing a Life Story Helps Dementia Caregivers, published by Next Avenue, I further discuss the importance of documenting your loved one's life story.
Have you documented your loved one's life story? If not, your missing a great opportunity to provide both enrichment and better care.
Get started by using this Person Centered Profile.
If you like what you've read, why not receive periodic updates when you:
Subscribe to the TinT Newsletter
Questions or thoughts? Let me know by commenting below: