During my journey of creating and maintaining Together in This as a resource to help you fight back against dementia, I've met a lot of incredible people. This includes family caregivers who are in the midst of the disease as well as professionals who are helping families cope.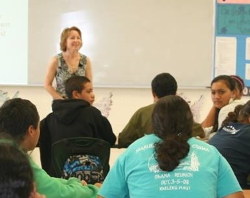 No matter what our situation, we are all Together in This fight! We must stay #UnitedAgainstDementia and help one another. Maybe you're helping a love one who has dementia, or your love one has found peace and you're now helping other caregivers.
No matter your situation, you're a caring person who is paying it forward by using your strengths and experiences to advocate and help other people struggle less.
Maria Shriver, whose father Sargent had Alzheimer's, is one of Alzheimer's biggest advocates, and I'm truly blessed to be able to write for her website.
I think it's important we find ways to pay it forward when we can, and that we acknowledge those who are making a difference for our cause.
I highlight the efforts of three wonderful ladies in my article, Paying it Forward to Help Others Find Strength in Caregiving which was originally published by MariaShriver.com, but is now published on this site. Please check it out.
---
If you like what you've read, why not receive periodic updates when you:
Subscribe to the TinT Newsletter
---
Questions or thoughts? Let me know by commenting below: