I have to admit the words compassion and empathy are so closely intertwined that I still confuse their meanings. By definition, empathy means to feel and understand another person's pain. Compassion takes it a step further, and adds one's desire to help an individual reduce their pain.
No matter the semantics, I think we all agree we need the general public and government to have a better understanding of the emotional, physical, and financial toll that Alzheimer's and other dementias have on a family.
But we also need them to understand that people with Alzheimer's are still capable of accomplishing great things and being valuable members of society. They deserve love, understanding, and to be treated fairly. This takes empathy and compassion.
However, unless there's an emotional event that shapes a person's feelings and behaviors, empathy and compassion must be instilled through awareness and exposure to an issue.
And it's nearly impossible to change an entire culture's ignorance and create understanding about an issue without starting the education process at a young age.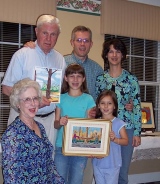 Recently, I was introduced to Dr. Daniel Potts, and I had the pleasure of talking with him. Dr. Potts' father, Lester, had Alzheimer's, and now Dr. Potts continues to advocate and pioneer programs that spread awareness and help instill empathy and compassion.
Two of these programs involve youth and helps them learn compassion and empathy for older adults and even those with dementia.
Learn more about his amazing work by reading my article on Next Avenue: Bridging the Alzheimer's Awareness Gap to Build Empathy.
---
If you like what you've read, why not receive periodic updates when you:
Subscribe to the TinT Newsletter
---
Listen to my conversation with Dr. Potts on The Alzheimer's Podcast:


Questions or thoughts? Let me know by commenting below: