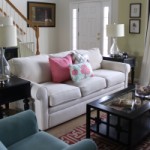 Nobody instantly moves into a memory-care community upon diagnosis of Alzheimer's or other dementia. In fact, estimates say that between 60 to 80% of all people with dementia are cared for in a private residence. Worldwide that's somewhere around 26 to 35 million people.
If you're over 40 then you've probably already realized that your home is not as "friendly" as it was when you were younger – the lighting is less adequate, the stairs are a pain to climb, and why do you keep tripping over that throw rug that has always been there?
Now imagine a person with Alzheimer's, whose judgment, visual perception, coordination, and memory are waning, living in the same house. You should quickly realize that your home isn't Alzheimer's friendly either.
You can, however, start making inexpensive changes to your home that will help accommodate their unique needs. To help get you started, I wrote this article, 4 DIY Alzheimer's Friendly Home Modifications, which was published by Val over at Love My DIY Home.
Please consider stopping by and leaving a comment. Or maybe you can share this article with a friend who needs to make their home Alzheimer's friendly.
---
Streamlined Resource:
Creating an Alzheimer's Friendly Home
---
If you like what you've read, why not receive periodic updates when you:
Subscribe to the TinT Newsletter
---
Have you had any experience in improving your home? I'd like to hear from you in the comments below.