Contributing Writer: Barbara Lewis, Limon Attire founder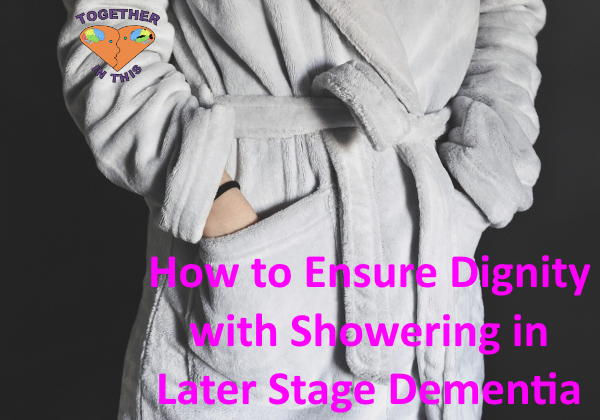 The problem of how to make shower time less stressful for both someone with later stage dementia as well as their helper is a prevalent one.
There is a great deal of advice out there about this but everyone with dementia is different.
I would like to share my experience of showering my mum and the strategies we used to keep the process as calm and dignified as possible.
Shower in the morning before dressing
We would always help Mum shower in the morning. This was easiest because she would already be visiting the loo which was in the wet room.
She would also be getting undressed to get dressed for the day, so showering at this time was an obvious thing to do and kept any potential arguments to a minimum.
Wet rooms makes life easier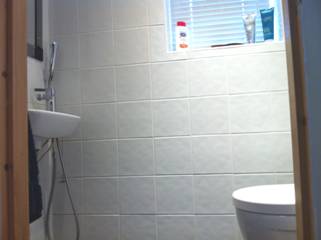 I can't recommend a wet room enough. It doesn't have to be huge. Ours was the size of a small downstairs loo.
It avoids issues of stepping into showers or climbing into baths. Any accidents can just be washed away with the shower head.
There are no worries about getting water everywhere, and there is no need for a bath mat, which can be disturbing for some people with dementia.
A heated non-slip floor is cozy and helps the less sure footed, and, when the time comes, a shower commode can still be taken in.
Sing to aid communication
We would help her walk to the wet room, and singing on the way encouraged her.
This would generally be something like – 'Let's go for a shower, a shower, a shower…..' to the tune of 'There's a hole in my bucket', or 'left foot, right foot 1 2 3….' to the tune of 'Lou Lou skip to my Lou'.
She understood this better than the spoken word.
Feeling vulnerable and exposed can lead to agitation
We tried all sorts of things so she could shower with dignity and be uncovered as little as possible.
We wrapped a towel around her shoulders and popped one over her knees to help her feel more comfortable and less exposed.
This worked to an extent but she was still agitated and clearly not happy about having to be helped to bathe.
The agitation became worse as the dementia progressed and she even took to pulling our hair when we were bending down to wash her feet and legs!
We did not take this as aggression – more confusion and frustration at not understanding what was going on.
We took to wearing a bobble hat, which saved our hair, but did not lessen Mum's agitation or distress.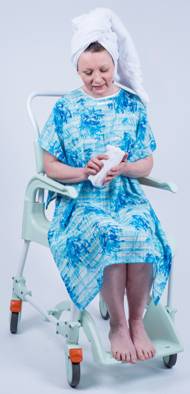 Observing this one day, our other sister declared 'what we could do with is one of those things nuns bathe in!'
Well, all three of us were convent educated but, of course, had never seen nuns bathing.
No matter, I raided Catherine's fabric cupboard (not for the first time), sat at my sewing machine and designed and made a garment that Mum could wear whilst in the shower.
The result was like magic. Mum, knowing that she was no longer exposed to the world, relaxed and became much calmer in the shower.
Life was a lot less stressful for all of us. Thus, the Limon Attire Shower Drapron® was born.
It was worn throughout showering and it could be discreetly lifted to wash each part of the body without Mum feeling exposed. It was so simple, we could still check Mum's delicate skin for signs of pressure sores and she clearly didn't feel so exposed.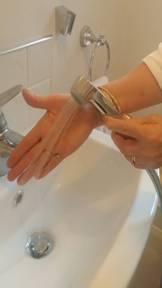 Once she was happily sitting in her Shower Drapron® we could give her a warm shower using the hand-held bidet shower that we had installed.
This is great because there is no water coming from above to distress the person with dementia, and they can operate it themselves if they wish. It is extremely controllable with just one button to depress with one finger.

Be organized and take time
Taking time was essential – rushing was not good for any of us. Organisation was also key.
We had everything ready in the wet room before we brought Mum in. Towels would be hanging on the door and clothes would be set out in dressing order.
We used a pump action shower cream or gel – it is so much easier than having to open and squeeze a bottle.
Nylon body scrubs were great – we would apply the shower gel and hand it to Mum to wash herself while we had a second one to wash anywhere she missed.
Soft flannels do the same job, and as the skin becomes more delicate these are more appropriate.
We would talk or sing to her throughout the showering process telling her all the time what we were about to do and asking her to help with specific things.
"I'm gonna wash that man right out of my hair" – was always a favorite.
Any necessary manicuring and pedicuring was done whilst Mum was showering which helped as nails become more easily manageable when they have been wet for a while.
Preserve dignity with Towelling Drying Drapron®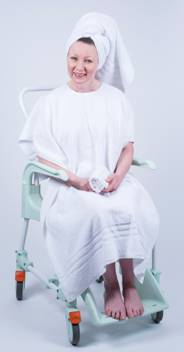 Having discovered the success of the shower drapron® the logical step was to have a towel in the same design, so I designed one.
Once she was completely showered we would pop the soft towelling Drying Drapron® over her and remove the wet Shower Drapron® without needing to expose her at all, so she would still be calm and wouldn't get chilly.
You can see a video of the Draprons® at work here.
We could then use another towel to dry legs and feet etc. thoroughly. Once dry we could start the process of getting dressed. Again keeping her as covered as possible.
We generally helped her dress in the wet room in order not to disturb and interrupt the process and avoid any possibility of upsetting her.
Towels were put on the floor and on the shower seat/loo so that she didn't get wet again.
Once she was dressed we would help her walk straight into the kitchen for her breakfast (which, of course, we had made preparations for before the shower) leaving everything in the wet room to be cleared up afterwards.
See the Shower and Drying Draprons at Limon Attire. We are offering a special 10% discount on first orders to readers of Together in This. Quote TinT10 at the check out.
---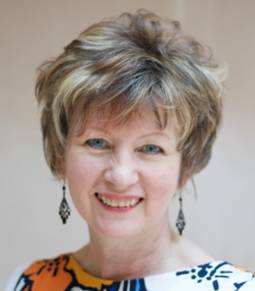 About the Author:
Barbara Lewis cared for her mother for three years, along with her sister, in the later stages of her dementia.
Their creativity and problem solving skills helped them to keep their Mum at home (where she wanted to be) with dignity until the very end.
Barbara studied textiles and had a 20 year career in Fashion Buying and both sisters are skilled seamstresses like their mother. Since her Mum's death she has worked hard to share with others her experience and the products she designed for her mum.
Be sure to visit Barbara's store:  Click Here.

---
If you like what you've read, why not receive periodic updates when you:
Subscribe to the TinT Newsletter
---
If you have questions or would like to share your experience, we'd love to hear from you in the comments below: