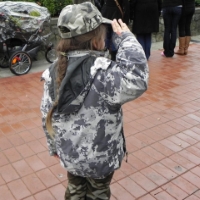 As Alzheimer's and other dementia progress, the person's reliance on other people increases. When a person can no longer fully care for themselves, there's a tendency to treat them more like a patient than a person.
With all of the demands of caring for a person with Alzheimer's, it's easy to become rushed and frustrated. This often leads to an impersonal interaction where their needs and feelings are overlooked.
It's up to us to recognize these situations and remember to observe and listen to the person with dementia. Respect comes in a variety of shapes and sizes, but it ultimately helps to preserve their identity and maintain their dignity.
I discuss this further in my article, Respecting the Person with Dementia, which was published by Next Avenue.
If you like what you've read, why not subscribe to our free newsletter?
Questions or thoughts? Let me know by commenting below: