Contributing Writer: Diane Lansing, RN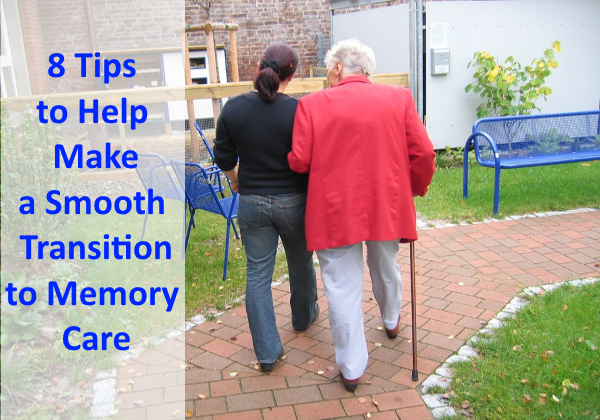 Caring for someone living with Alzheimer's disease or another dementia is often hard work. There may come a day when you realize that the best way to care for your loved one is to allow someone else to care for them.
Perhaps this means moving to a specialized memory care unit. Here are eight tips to help make this transition a little bit easier:
1.  It may be helpful to visit the memory care unit together with your loved one a few times prior to admission. You might join residents for coffee, attend an activity of interest to your loved one, or enjoy special entertainment.
This allows staff to get to know both of you. Even if your loved one doesn't quite remember these visits, it will leave them with a familiar and positive feeling about the location.

2.  Share as much information as possible with your loved one's new caregivers. Include their background, likes and dislikes, normal routine, and preferred activities.

3.  It's probably best for your loved love not to be involved in the chaos of packing, moving, and setting up their new room.
Perhaps one family member can take your loved one out to do something special while other family members do the actual moving.

4.  Set up your loved one's room to look as much like their home as possible. Include personal items that provide comfort such as a favorite quilt, copies of photographs, or a special piece of furniture.
This isn't the time to purchase a lot of new items to make their room look more attractive.

5.  A decade ago we encouraged family members to stay away for the first week or so after admission to allow the resident to adjust. Today this is rarely the case.
Go ahead and visit, and try to maintain enjoyable routines like watching a favorite TV show together, playing cards, or sharing a meal.

6.  Arrange to talk with a primary caregiver daily for the first few days after admission. You'll have an opportunity to learn how your loved one is adjusting, and this allows staff to bring up any concerns or questions.

7.  You will undoubtedly have mixed feelings about such a significant move. As much as possible, display a positive and supportive attitude.
People living with dementia are very good at picking up on other people's emotions. If you come across as worried or upset, your loved one will, too.
8.  Trust yourself in knowing that you made the best possible decision for both you and your loved one at this particular stage in your lives.
Transitioning to a memory care unit is rarely without challenges. It nearly always takes time to adjust. But with support from the memory care staff and a positive outlook, you can help your loved one adapt and thrive in their new home.
---
About the Author: Diane Lansing is an RN with over 20 years of experience working with residents of memory care units. She currently enjoys volunteering at Elim Rehab and Care Center in Fargo, North Dakota where she previously worked as a nurse manager.
Diane blogs at NursingHomeVolunteer.com, a place for long-term care volunteers to share ideas and encourage one another.

Are you considering memory care, or have you already made the tough decision? We'd love to hear from you in the comments below:
---
Subscribe to the TinT Newsletter
---