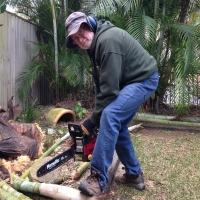 The majority of people with Alzheimer's or other dementia are physically active, unless they're on heavy medications or are nearing the final stage of the disease. And we want them to be active because activity is good for their mind, body, and spirit.
However, as their ability to remember erodes and their judgment diminishes, they may put themselves in dangerous situations. But prohibiting them from doing things they enjoy will only lead to behavioral outbursts as they fight back to protect their independence.
Encouraging such stimulation while also providing a safe living environment is not an easy task for untrained, family caregivers, or for professionals for that matter. As a result, many remove the activity all together or even medicate their agitated loved one.
To learn more, please read my in-depth article How to Strike a Balance of Safety and Activity in Dementia where I discuss the importance of striking a balance.
---
Streamlined Resource:
Creating an Alzheimer's Friendly Home
Bonus Resource:
 Free Checklist for Preparing Your Home for Someone with Alzheimer's
---
If you like what you've read, why not receive periodic updates when you:
Subscribe to the TinT Newsletter
---
Have you found yourself trying to create this balance? I'd like to hear from you in the comments below.