Talking to someone about their declining health is a very sensitive topic. You may believe your loved one has Alzheimer's disease or another issue, but if not handled properly, there will be negative consequences that may push them further away from getting timely help.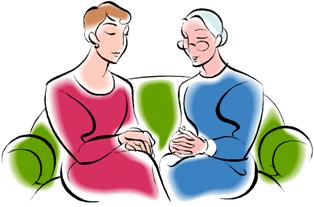 Your concerns about your loved one's cognitive health may be on your mind all of the time. You are likely worried about their happiness, safety, and finances.
However, you or another family member has possibly already pissed them off at least once by pointing out a "mistake" that they made.
Now anytime you try to bring up the conversation, they get defensive and won't talk about it. Who can blame them? After all, the thought of having Alzheimer's disease or another dementia is a very scary, and foreboding.
You Can Do This But it Won't be Easy
Because you love them, you have to work through this. It won't go away. They love you too but they are embarrassed and afraid. They need your support now more than ever.
Most of us don't have a psychology degree so we don't handle difficult situations smoothly. We make a mess of things and we don't know how to unravel the situation. But you can, with a little guidance.
First, start with a little education. Make sure you read my article, Does Your Loved One Have Alzheimer's Disease?, before you tell them you think they have Alzheimer's disease – otherwise, that could be a big, unnecessary mistake.
Talk Now, Before Things Get Worse
Having this conversation after something bad happens will only make things worse. Because you and your loved one will be in crisis mode, your emotions will likely have an adverse affect on your decision making resulting in decisions that you may regret later. So let's talk about how to have the conversation now, before crisis.
The Talk, part 1
Remember, you can't force people to change their minds and do things they see no value in doing. The goal is to empower them to come to realizations so they can make decisions on their own (at least let them think they are making them on their own☺).
I find that it usually takes at least one conversation to allow people to express themselves for the first time. Often this is the first time the person has even consciously thought about a topic, let alone made significant decisions regarding the topic.
Let the first meeting be about them talking and you listening unselfishly. Guide the conversation by bringing up similar events that have occurred with other people (friends, family, neighbors, or celebrities) and how it has affected their families.
Ask your loved one what they would do. Do not compare their "mistakes". Let them make the connection. Listen and guide.
The Talk, part 2
Now that their thoughts have been stimulated by the prior conversation, you can carefully turn the topic towards your concerns. Let them know that you love them, respect their wishes, and want to support them.
Speak in general terms about their health. Don't use words like Alzheimer's, dementia, or disease – remember you don't know what is causing the symptoms. It might be something very innocent such as a vitamin deficiency.
Don't point out multiple problems or issues that might be embarrassing; doing so may cause them to become defensive and shut down. Mention an example of one thing you noticed. Then listen.
When they downplay the problem, and they will, reaffirm your love and support. Possibly, point out another occurrence of the same issue. If they get angry, back off. Don't fuel the fire. If you don't get through this time (odds are you won't), don't give up.
Persist
As in most things in life, it's not about being smarter, quicker, or louder – it's about persisting. Ask them to have an open dialog with you regarding things that may occur in the future.
Ask them to stay open-minded about a Dr's visit, if not for them, then to give you peace of mind. Once they agree, assist them in scheduling an appointment, and offer to join them on the visit.
Talking to someone about potential cognitive issues can be very scary for both people. Try to make conversations casual and don't point out negative situations. If your loved one starts to get agitated, move on and save the conversation for another day.
I wish you the best of luck as you move forward Together in This with your loved one.
For additional insights, check out this pamphlet provided by Eldercare.gov:
Conversation Starter
---
If you like what you've read, why not receive periodic updates when you:
Subscribe to the TinT Newsletter
---
Do you have any tips or tricks you have used? Or maybe you have a question? Please share in the comments below.