If you've noticed your loved one forgetting things more often, you may suspect the worst. Alzheimer's disease, however, isn't always the cause of memory related issues yet it's seems to be what we think of first.
Personally, the more I hear and read about Alzheimer's, the more I second guess my own memory. Possibly more concerning – why did my wife forget what I told her yesterday? Does she have a memory impairment?  Could we both have dementia? Probably not!
It's only natural to forget things
We all have very hectic days trying our best to balance multiple things at once – after all we are a generation of multitaskers. We care for our kids, spouses, and parents. We have careers and interests. It's natural for us to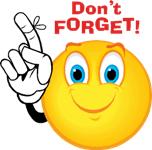 do things on auto pilot or not pay attention to the details of our loved one's story because our mind is somewhere else.
The two classic comments about forgetfulness are: "I never remember names and I can never find my keys". Come on! We've got to use some common sense here and understand these are simply not signs of something worse. They are cases of not paying attention!
It's not normal, however…
To repeatedly forget to pay bills, let food rot, paperwork pile up, or dress oddly (unless of course you're a teenager). Remember – Your loved one will not tell you there is a problem! You have to pay attention. When you don't live with them, it's even harder to pick up on the warning signs so slow down and pay attention.
Are there more signs?
One symptom alone is not reason to sound the alarm so you should be aware of and watch for other patterns. According to various sources, below are some possible symptoms of dementia that may be reason for concern:
Memory loss that disrupts daily life

Confusion about the location of familiar places

Difficulties completing common daily tasks

Difficulties in solving problems or planning

Loss of time perception

Trouble understanding visual images

Problems with words in speaking or writing

Losing the ability to retrace steps to find misplaced items
It could be something else
According to my research, as of 2013, approximately 20 million people in the USA have cognitive impairment (some form of dementia) while 5 million of them are diagnosed with Alzheimer's disease. So obviously, for 15 million people the impairment is caused by something other than Alzheimer's. I should also point out that another study shows that 25% of those with cognitive impairment will in fact get better1 so we know they don't have Alzheimer's because no one gets better from Alzheimer's disease.
Here are some correctable things that can produce the same symptoms: Medications, infections, alcohol or drugs, stress, depression, or even vitamin deficiencies.
Early diagnosis is a good thing
I've heard stories of people being so afraid of receiving a diagnosis of Alzheimer's that they didn't get tested until things got really bad; only to find out that the cause was correctable. These people and their caregivers lived unnecessarily in fear and discomfort for years – ouch!
Getting your loved one's doctor involved sooner rather than later will result in one major benefit: It will allow you and your loved one to move forward. The anxiety of the unknown will be gone. Patients say they feel a weight lifted from their shoulders because now something can be blamed for causing their mistakes. And, maybe you will find out it's not Alzheimer's and can be corrected.
So remember, just because you or your loved one is having trouble remembering things, does not mean they have a progressive disease like Alzheimer's. Instead of fretting, see a doctor and get a proper evaluation.
---
Additional resources: Do I Have Alzheimer's page or  Publications and Tools
---
If you like what you've read, why not receive periodic updates when you:
Subscribe to the TinT Newsletter
---
Questions? Stories? In the comments below, I would love to hear any input or experiences that you have.
1. http://www.cbc.ca/news/health/1-in-4-people-with-mild-cognitive-impairment-may-get-better-1.1364373