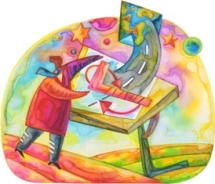 When  a person is diagnosed with Alzheimer's disease, it's very common for people to over compensate for them. Quite often, people in the early stages of Alzheimer's are able to lead fulfilled lives for several years. 
As with all topics related to any form of dementia, we must understand the level of abilities and emotional strength of the care recipient. It's more about these abilities than what stage they are in.
We must also be sure that we are empowering them to complete tasks and not doing the tasks entirely for them – it' about prolonging their independence and purpose.
Promote Independence and Confidence
During the early stages of the disease, the care recipient is still very capable of participating in life's activities. At the same time, they are greatly aware of their situation. With this awareness comes great emotional strife.
Their independence is slipping away and their confidence is low. This anxiety creates an unhealthy level of stress and potentially depression.
In order to optimize their quality of life, you as the caregiver must help minimize their emotional low points. You must empower them to stay active by focusing on their abilities and not their shortcomings.
Dr. Jennifer Bute (living with Alzheimer's) of Glorious Opportunity stated, "We need our carers to do more with us and less for us."
Take a little time and think about what Dr. Bute is saying, after all it is coming straight from a care recipient.
"Do more with us"
Having purpose and doing things together with family is where enrichment comes from, especially during the early stages of memory impairment. Bring your family together and do things with your loved one.
Remember, they may not like things they used to like or they may like things now that they didn't like in the past.
Stay creative in finding their purpose. Create activities and outings where your loved one can participate while having a family member there to assist (not take over) as needed. This can create a bond that gives the care recipient strength.
Activities don't have to be complicated to have the most impact. Some ideas include playing board or card games, doing puzzles, going for walks, gardening, cooking, dancing, playing music, painting, or having small family gatherings.
Get out of the house
Field trips can be a great way to stay active and create some new memories. These short trips can stimulate of our senses, so think about how they might affect sight, hearing, smell, touch, or taste.
For instance, the smell of the ocean or flowers in bloom may rekindle old memories. While seeing children or pets in the park can have the same affect.
Remember to observe your loved one's demeanor because they may no longer be comfortable in new places or around people. It's about their experience – not yours. Low-key outings can include going to a local garden, lumberyard, fabric store, baby store, horse ranch, pet store, bakery, museum, plant nursery, or candle store.
Create more purpose with projects
I really believe that creating projects that last for days, weeks, months, or even years may be the most beneficial activity you can do for your loved one. If you are able to find the right project, you may in fact create a mechanism that brings them purpose, happiness, and a need to learn on a daily basis.
I have no scientific evidence only observations that I have made of a handful of patients, but I wonder if this might be more powerful than any drug in slowing the progression of the disease.
Some project examples that I have thought of include writing life stories, creating photo albums, or developing a family tree. These projects provide purpose now and also provide tools for reminiscing as the disease progresses. Some patients have started blogs or even small businesses.
You and your loved one could share your story by guest writing for a blog like Together in This. Projects could also include home-improvement, landscaping, volunteering, or knitting a sweater.
You must be their rock
Stay creative and be persistent in finding activities that put a smile on your loved one's face. You are the one person they feel most comfortable around. As a result, most of their enrichment will come from doing things WITH YOU.
---
If you like what you've read, why not receive periodic updates when you:
Subscribe to the TinT Newsletter
---
Questions or do you have experiences using other approaches? In the comments below, I would love to hear from you.