A diagnosis of Alzheimer's disease often leaves a family feeling as if life with their loved one is over. Alzheimer's is a terminal illness but it's not uncommon for a person to live for 10 to 20 years beyond the initial diagnosis.
In fact, people with Alzheimer's, as well as other types of dementia, can live productive, albeit challenged, lives for many years.
We've heard how the cancer patient was able to fight back and beat a terminal diagnosis. While we've yet to have an Alzheimer's survivor, arguably the best way to delay the progression is also by fighting back.
The best way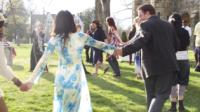 to accomplish this is by maintaining stimulation through activities and socialization. I discuss this further in my article, Alzheimer's Is Not a Prescription to Stop Living, which you can read over at The Caregiver's Voice.
---
If you like what you've read, why not receive periodic updates when you:
Subscribe to the TinT Newsletter
---
What are you doing to help keep your loved one stimulated? Please share in the comments below: