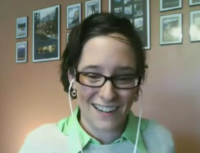 Losing the ability to communicate with a loved one with Alzheimer's or another dementia is a very difficult and disheartening situation. But it doesn't have to be if you learn how to "Speak Alzheimer's."
I recently had the privilege of having Barbara Worthington join us on the Together in This Empowerment Workshop series.
Barbara holds degrees in Nursing and Health Education. She has been influenced by Alzheimer's disease and dementia, not only professionally in health care settings, but personally as well. Barbara's own father and both maternal grand parents lived with Alzheimer's and related dementia. She considers herself blessed to have been a family caregiver for all 3 of them.
For Barbara, caregiving became depressing until she started to learn how to "speak Alzheimer's." These trial and errors led way to the creation of an innovative and yet simple product called Caregiver Cards which are tailored towards the needs of Alzheimer's carers and beyond.
During this interactive workshop, Barbara shared tips & strategies to help you have successful communication with persons with Alzheimer's disease and related dementia.
When you're caring for someone with Alzheimer's or another dementia, it's important to have effective communication strategies that preserves a good quality of life for the care partnership.
We discussed:
The relationship between the 7 stages of Alzheimer's disease and Retrogenesis
What is communication and how is it affected by Alzheimer's disease
How communication strategies can help your unique dilemma
Communication strategies that focus on the person not the disease
Why a person-center approach to care improves communication
The "Step-by-step" communication technique
 You can watch the 1 hour workshop by clicking below:

---
Or listen on the go:
Download the audio file by clicking the down arrow below:
---
If you wish to be notified about upcoming events, you can register here:
Subscribe for Upcoming Empowerment Event Notifications.
---
Questions or thoughts? Let me know by commenting below: