Everyday during my research, I see news articles that conflict with one another about whether we can prevent Alzheimer's disease. Today was no different when I saw a new headline touting the benefits of exercise and mental stimulation to stave off Alzheimer's.
It wasn't but a couple of minutes later that I saw a newly published article with a conflicting message saying a recent study shows that exercise doesn't help stave off Alzheimer's. Both articles were on what I believe are nationally syndicated sites.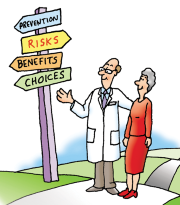 There are so many conflicting messages, as we try to simplify a disease that is extremely complicated and not understood.
Can We Delay Alzheimer's Disease?
Both articles used the word stave which in this usage means "to delay." How can we, with any degree of accuracy, measure whether something is going to stave off a disease such as Alzheimer's?
I now put this word into the same category I have for the word "may." This category is reserved for things we just don't know or understand so we have to put disclaimers: This may prevent Alzheimer's; this may stave off the disease.
Its one step away from hype, but it can provide hope. Hope that if we make certain life-style decisions we can reduce our risk for getting Alzheimer's.
If you've read my previous writings on the topic of prevention, you know I say "we have to do what makes sense."
We may not know for sure what causes the disease or if we can prevent it, but we do know there are things we can do that make sense in reducing our risk.
I'm proud to announce that I have been asked to be a guest writer for SixtyandMe.com, where you can continue reading my thoughts on this subject in my article: How to Take Care of Your Brain as You Age.
Questions or thoughts? Let me know by commenting below:
---
If you like what you've read, why not receive periodic updates when you:
Subscribe to the TinT Newsletter
---