This article written by Together in This first appeared on Caron Cares.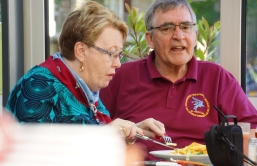 When a person has Alzheimer's or other dementia, they will eventually need help with basic activities of daily living (BADL). This includes, but is not limited to, things such bathing, toileting, dressing, and eating.
Eating and drinking is doubly challenging because not only do you need to help the person to eat and drink, but you must ensure they are also getting proper nutrition and hydration. This complexity often results in a contentious interaction between the individual and their care partner.
We must remember that eating is a fun and impressionable activity. In fact, many memories are formed around holiday gatherings, meal-time conversations, or dinner out with friends.
So it's very important to find ways to overcome your unique challenges to make eating and drinking a positive experience both socially and nutritionally.
To encourage eating, the National Institute on Aging suggests caregivers understand the challenges, assess the situation, and view mealtime as an opportunity.
The Challenges
As the Alzheimer's Society points out in their Eating and Drinking Factsheet, these challenges may include:
Loss of appetite due to depression, pain, constipation, etc
Cognitive impairment that hinders the ability to complete multiple process steps or even recognize food
Coordination problems that make it hard to handle cutlery or glassware
Difficulty chewing or swallowing due to dysphagia or poor oral hygiene
Decline in sensory perceptions that impact visual perceptions or the ability to smell enticing scents
These are just some of the challenges that a caregiver may face in the first goal of getting the person with dementia to eat and drink regularly.
While people with dementia don't necessarily need a special diet, the challenges of eating and drinking put them at risk for poor nutrition and dehydration. This will likely have negative health consequences which may also increase behavioral symptoms.
So it's very important to observe and understand what may be hampering successful mealtimes so that the goal of proper nutrition and hydration can also be achieved.
The Situation
Eating should be in a comfortable and relaxed environment. Environmental factors such as excessive noise, distracting activities, odd smells, or even confusing table cloths can have an effect on the individual's ability to eat properly.
As the care partner, you must pay attention to how the individual is affected by these different environmental factors, and modify these obstacles when appropriate.
It's not always possible to get the individual to eat and drink properly, and doing so while sitting often adds more difficulty. If needed, look for snack opportunities throughout the day. Many fruits and vegetables have high water content and are packed with vitamins.
Some individuals may become overwhelmed by too many food choices while others may need help with the eating process. Make sure to simplify the eating process when possible, and assist them as required. Being by their side while eating will help you to identify any issues, and it will also open the opportunity for socializing.
The Opportunity
The social aspect of eating together cannot be over emphasized. Getting mealtime to be enjoyable for both the individual and you, the care partner, is important for the well-being of both of you. It's a time where your two souls have a real opportunity to connect.
By respecting their choices, promoting their independence, and affirming their abilities at mealtime, you can create an enormous, positive experience.
Also, when possible, don't miss the opportunity to include the individual in meal preparation and clean up. This further helps to promote their independence and feelings of accomplishment.
The Takeaway
Regular caloric and nutritional intake can't always prevent weight loss in people with dementia, nor can it reverse the progression of the disease. It can, however, promote better health, improve and/or prevent behavioral symptoms, and result in better well-being for both the individual and their care partner.
There's a lot written about the challenges and strategies associated with eating and drinking for a person with Alzheimer's. To help you navigate this information, please be sure to check out the Together in This resource page on Eating.
Remember, don't get so wrapped up trying to continually provide proper nutrition that you forget that an occasional burger and shake may be best medicine for happiness and better well-being.
Do you have any questions or thoughts? Let me know by commenting below:
If you like what you've read, why not receive periodic updates when you:
Subscribe to the TinT Newsletter
---