In late 2014, I had the privilege to join Judi Bonilla on her Empowered In Aging podcast. Judi provides resources for multi-generational families including blogs, news, and podcasts.
During this episode, Judi and I discuss among other things, my background, and my vision for Together in This. By clicking the link below, you can go to Judi's site where you can listen to the conversation or download it for later.
Adjust your speakers and click below to listen now: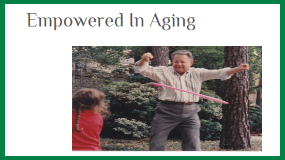 Empowered In Aging's Conversation with Mike Good
If you like what you've heard, why not subscribe to myfree newsletter and receive periodic updates?