When you're caring for a loved one with Alzheimer's disease or another dementia, it's important to discover activities that you can enjoy together. After all, you love each other and activities shouldn't always be one-sided.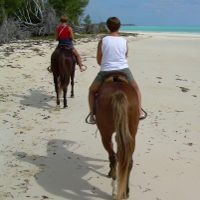 Before the disease, it's likely you spent time together doing things that had a therapeutic benefit for both of you. For some it's hiking, while for others it might be horseback riding, or cooking.
Although it might not be possible to perform these activities at the same level, it's likely they can be adapted to your current situation. For instance, if you used to horseback ride together, maybe now you can go to an equestrian ranch and pet the horses together.
Finding activities that relax each of you and touch your spirits can have a real meaningful impact on both of your lives.
In my article, 5 Therapeutic Activities for the Alzheimer's Care Partners, which was published by Family Affaires, I give 5 ideas that you should consider doing with your loved one.
---
If you like what you've read, why not receive periodic updates when you:
Subscribe to the TinT Newsletter
---
Questions or thoughts? Let me know by commenting below: