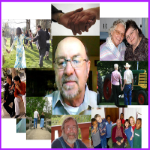 Being united against dementia is about doing your part to help with the cause. It can be as complicated as running an organization to spread awareness or as simple as holding someone's hand who has Alzheimer's or another dementia.
We all have an important role.
I recently (2015) had the privilege of interviewing Harry Urban who has been living successfully with dementia, probably Alzheimer's, for more than a decade. Harry's vision of a world #UnitedAgainstDementia is an inspiration.
See my complete article at: United Against Dementia – An Inside Perspective with Harry Urban
Or watch the conversation here:
Or listen on the go:
Download the audio file by right clicking the down arrow below.

If you like what you've read, why not subscribe to my free newsletter?