This article originally appeared on MariaShriver.com in early 2015, but was removed when they migrated their site.
When the general public pictures a person with Alzheimer's disease or other types of dementia, they don't envision that person creating organizations or movements that make the world a better place.
And that's a problem.
Thousands of people living with dementia are currently helping unite the world against dementia. People with debilitating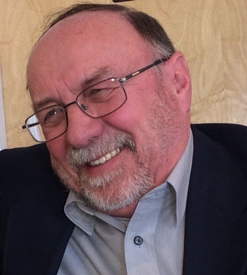 diseases such as Alzheimer's are in fact often at the forefront of such initiatives. Harry Urban is no exception.
Harry has been living a successful and active life with Alzheimer's for more than a decade. When you meet Harry, or any one of the millions like Harry, you don't want to believe they have dementia.
That's because they often hide what Harry refers to as their "dark side", the invisible foe they do battle with every day.
Ignorance can be hurtful. "People don't come out (share their diagnosis) because they are judged", Harry explains.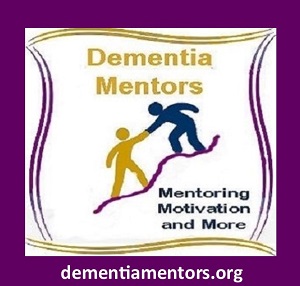 But Harry is at the forefront of changing this stigma. He has established an online support group and co-founded a mentoring program (see link at bottom of article) for people with dementia. Now, he is putting his vision of a world that is United Against Dementia (UAD) in motion.
"UAD isn't an organization and there's nothing to join," Harry points out. It's a movement to bring dementia advocates together. Such as volunteers to help caregiver's get respite or people with dementia mentoring the newly diagnosed.
Harry, like many of those with dementia, is very aware of the strain family members experience when a loved one has dementia. This awareness is exemplified in a quote from Harry's blog, mythoughtsondementia.com.
He says, "Why am I working so hard in getting United Against Dementia off the ground? Just read the posts in any dementia support group and you will see the answers."
To lend a hand to these caregivers, Harry envisions a volunteer corps that routinely visits a family's home or a care facility. He compares this to the candy stripers of the past who would visit hospitals to perform non-medical tasks such as walking or talking with patients.
This aid is greatly needed to help families get a break from caregiving. Harry says, "In order for you to care for me, you have to care for yourself."
Volunteers can also reduce the strain on staff in dementia-care communities or hospitals by freeing them to focus on medical needs. These facilities who often state that they don't have the funds to do more should be excited about enlisting volunteers.
But complex state regulations seem to cause them to be over cautious when it comes to accepting volunteers. To this, Harry responds, "Let's put aside the politics, lets put aside the fears. I'll sweep the floors for you to free up staff."
Harry's United Against Dementia attitude is helping him open doors at some of these facilities. They are starting to warm up to the idea of volunteers and mentoring programs.
In fact, Harry has partnered with a local hospital to speak to newly diagnosed patients. He's driven by the fact that when he was diagnosed, he received the "Here's a prescription, see you in 6 months" response from his doctor.
Consequently, he understands the fear of a diagnosis. But he's the first to assure you, "There is life after diagnosis." As part of this mentoring, the newly diagnosed are invited to attend a 6 – 8 week support group.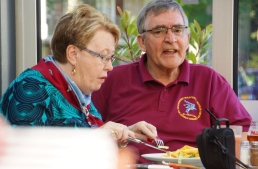 At the completion of this program, individuals are encouraged to attend a local Memory Café. Harry tells us that these cafes are invaluable because, "There's no place we can go and enjoy ourselves without being judged."
These cafés which can also be attended by care partners, help provide an important support network for people with dementia who may not be able to get the proper support elsewhere.
Alzheimer's and other types of dementia is an epidemic for which there is very little support outside of the dementia community. Today's heroes are those like Harry who are working to unite us against dementia.
These pioneers are breaking down stigmas and opening doors to make this a better world for the millions of people who will be diagnosed with dementia in the near future.