When you're caring for someone with Alzheimer's disease or other type of dementia, you will face many challenges. One of the most complex is having a loved one who is very active and prone to leaving the home. You want them to be active and have the ability to explore new things but once they are out of your sight, anxiety and fear become your unwanted companions.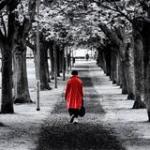 In this article, When a Neighbor Wanders, I share how I was both touched and frightened when a neighbor I didn't even know became lost in my own neighborhood. The fear I felt as I helped search for him can not even come close to what the family must have felt.
Recently, in my county, a husband took his wife with Alzheimer's disease on a camping trip. I applaud him for getting her out of the house and doing something that enriched her life. Unfortunately, she became lost. Who knows why she ventured away – maybe it was curiosity of a plant she saw, a sound she heard, or maybe she was disoriented and wanted to return home.
Even though there was an extensive search for her that involved dozens of law enforcement personnel as well as volunteers, she wasn't found. There was even speculation that she got into a car with someone and was hundreds of miles away.
Six weeks later, she was found deceased less than ½ a mile away from the campsite. I can't even imagine the grief the family must have felt during this ordeal and the disappointment about how close she was the whole time.
This could have been prevented and I bet she could have been found alive in less than 30 minutes if the county would have had the right system in place to help families who are in this situation.
Everyone's first thought is GPS. But that wouldn't have worked in this particular situation due to the terrain. What we really need to talk about and get incorporated in our communities is RF technology.
To discuss why, I wrote this article, Shouldn't We be Talking RF and not GPS technology, which you can read on Lori La Bey's Alzheimer's Speaks blog.
---

---
If you like what you've read, why not receive periodic updates when you:
Subscribe to the TinT Newsletter
---
Questions or thoughts? Let me know by commenting below: