As you are probably aware, caring for a person with Alzheimer's or another dementia isn't an easy task. Left unchecked, the emotional, physical, and financial toll can break even the strongest person.
With support and acts of kindness from family, friends, and even strangers, a caregiver's day can be brightened when it might otherwise be gloomy.
I was asked to write an article about an AARP contest to reward people who demonstrate random acts of kindness to caregivers. I think this is a great cause but it also made me think about how the vast majority of people don't understand what caregivers do on a daily basis.
When they see you in public with your loved one, they don't realize the amount of planning and execution involved to make it a successful outing. They don't know that you've been up since 4 am because your father was awake.
Many are fearful to approach a stranger and offer help because they feel they should mind their own business, or they are afraid they will do or say something embarrassing. Many just don't give a damn.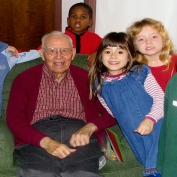 Creating a society that cares and is compassionate must start by teaching empathy and compassion early in life. This needs to occur in school since many parents don't understand it themselves.
In the meantime, you can read my article on Next Avenue about how we can be caregiver friendly today: Are You Caregiver Friendly? Prove It in This Contest. (The Contest expired on March 15, 2016 but the content is still relevant).
---
If you like what you've read, why not receive periodic updates when you:
Subscribe to the TinT Newsletter
---
Questions or thoughts? Let me know by commenting below: