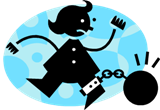 Before my friend Sue Paul, The Dementia Queen, mentioned the Caregiver Strain Index to me, I hadn't used the word "strain" when discussing the Alzheimer's caregiver.
"Stress" never really seemed to capture all the elements. Then while researching caregiver strain, I learned that strain is a combination of stress and burdens, and this made better sense to me.
Caregivers don't need anyone to tell them they are strained, stressed, and burdened – it's part of their existence. They do need to understand the root cause of their strain so that they can do something to reduce the strain and avoid fracturing their well-being.
To help explain this, I wrote Caregiver Strain Index – Where Do You Rate?, which was published by The Dementia Queen.
---
If you like what you've read, why not receive periodic updates when you:
Subscribe to the TinT Newsletter
---
 Do you feel strained, stressed, or burdened? What do you think about having a way to assess the cause of your strain? Please share in the comments below.