Adapting to the changing needs of the person with Alzheimer's or another dementia, and dealing with unfamiliar behavior and practical matters takes a physical and emotional toll on caregivers.
If these pressures are not periodically relieved, you may experience exhaustion, illness and depression.
In this dementia care workshop,  Vicki Kaufmann of CaregiverFamilies.com teaches strategies to help us through these difficult times, because Caregivers Need Care Too!
Vicki teaches us how to:
Alleviate exhaustion, tension, and depression by relieving caregiving pressures
Enhance your coping abilities with a variety of cognitive and action-oriented strategies
Implement techniques for a healthier body, alert mind, and alive soul
Please watch the replay by clicking below:

Or listen on the go:
Download the audio file by right clicking directly on the play button below and selecting "Save audio as."
---
---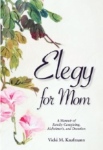 Make sure you stop by and check out Vicki's memoir, Elegy for Mom: A Memoir of Family Caregiving, Alzheimer's, and Devotion.
While you're there, you can also subscribe to her newsletter so you don't miss a thing.
Bonus Material
As discussed in class, here are the resources we mentioned:
---
Questions or thoughts? Let me know by commenting below: