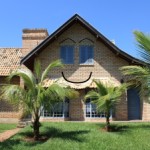 Let's face it, as we age our homes become less friendly in meeting our changing needs. For instance, reaching the top shelf now comes at a risk of pulling a muscle, or reading in bed now requires a flashlight 🙂
Professionals have been kicking around the term aging in place for a couple of decades now, but never with an emphasis on helping our loved ones who have Alzheimer's or other dementia.
It's not about aging in place – it's about living in an environment that meets your needs whether you're perfectly healthy, have a mobility issue, or struggle with the complications of dementia.
There are a lot of modifications that can be done to prepare a home for an older adult, and when possible professionals should be involved. But it's not easy finding someone trained in making a home Alzheimer's friendly.
To help you understand the four areas of need where you should pay attention, I wrote, How to Prepare Your Home for Someone With Alzheimer's, which was published by Next Avenue.
In this article, I discuss how safety, functionality, a stimulating environment, and the reduction of behavioral triggers all must be addressed to prepare a home for a person with Alzheimer's.
---
Streamlined Resource: Creating an Alzheimer's Friendly Home
---
If you like what you've read, why not receive periodic updates when you:
Subscribe to the TinT Newsletter
---
Have you had any experience in improving the functionality and safety of a home? I'd like to hear from you in the comments below.