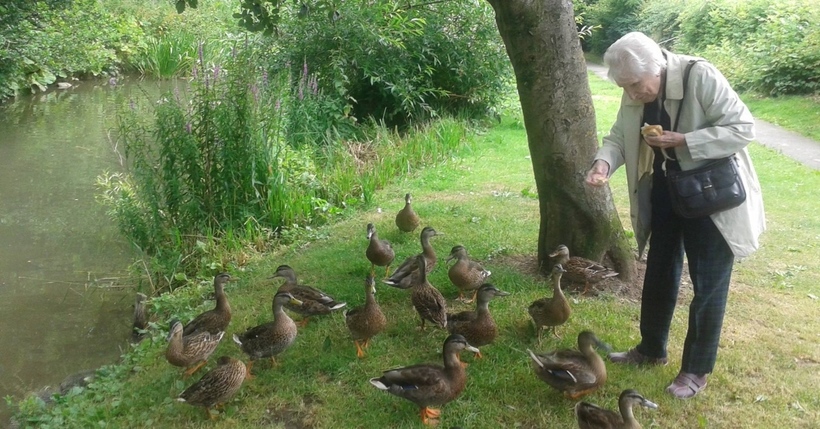 Everyone needs enrichment and purpose in their life – it's what keeps us happy and intrigued with life. By and large, we can create this for ourselves.
But when someone has Alzheimer's disease or another dementia, at some point, they will need others to help them maintain enrichment and purpose on a regular basis.
There are significant benefits to ongoing purposeful activities, such as a reduction in agitation and other undesirable behaviors which are often associated with Alzheimer's disease.
Heather's O'Neil's mom, Margaret, has dementia, and Heather has found activities that enrich her mom's life.
You can see in the pictures that Heather shares, Margaret is an active person with a big smile on her face; a look of pure pleasure.
"I have found that she is now more relaxed and less agitated," Heather comments.
Get Started By Identifying Personal Interests
Finding what works for your loved one may take time, patience, and creativity.
It's important to start with activities based on what you know your loved one has enjoyed in the past.
You can download this person centered profile to help you document their personal traits. However, you must understand that with dementia, interests and abilities change.
Be sure to share the profile with anyone in their circle of care, so they too will understand your love one better, empowering everyone to provide more enriching activities and care.
For Margaret, two things she always enjoyed include art and animals.
Using Arts and Crafts in Dementia Care
Quite often when we hear about the use of art in dementia care it involves painting with watercolors; the successful outcomes of which are well documented, and should always be considered.
But like many others, Margaret is still capable of more intricate art activities that involve materials and tools such as shells, rocks, paper, and scissors.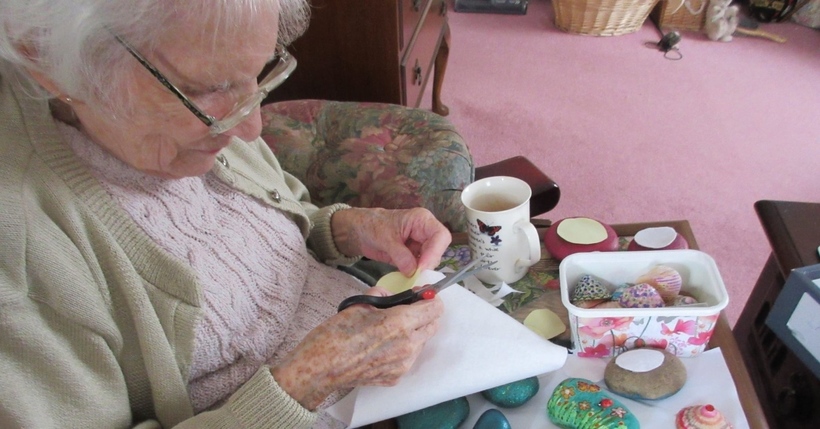 Heather understands the importance of being outdoors, so their art projects often start with a walk to gather their supply of rocks from the local river.
While Margaret may not remember their intentions, these purposeful outings are an important element of dementia care, and set in motion a sequence of purposeful activities.
At home, the arts and crafts projects may include decorating these rocks with nail polish and decorative stickers. Margaret also adds felt to the bottoms to avoid scratching the surface where the decorative rock will be placed.
The sequence of purpose is completed when Margaret gives her crafts to others as gifts.
Margaret also enjoys making beautiful crepe paper flowers (see a video tutorial of Margaret making flowers), animal cards, and coloring in her adult coloring books. She has even been invited to compete in the North Yorkshire County Council's Dementia Art Competition ('Remember Me').
Using Animal Therapy in Dementia Care
Heather and Margaret also get outdoors as much as the British weather allows. Their outings often involve visits to local petting farms.
On these visits, Margaret can be seen with a big smile on her face as she interacts with the animals as well as the children who are also visiting the farm.
Heather says, "The benefits my mum has from our weekly trip out to feed animals is immeasurable! Here she is loving every minute of our animal adventure; helping the children feed the animals too! She was in her element."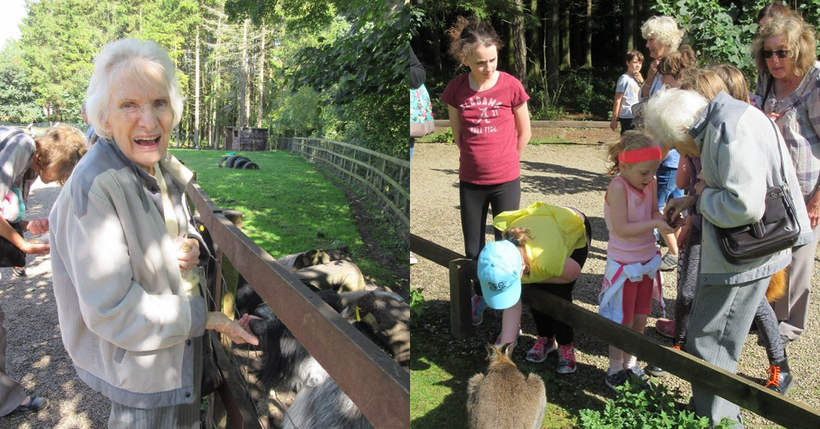 When they can't make it to the farm, they sometimes visit the local river where they feed the ducks, while also collecting their rocks.
Margaret has always been an animal lover and has had a variety of pets including dogs, cats, turtles, and even donkeys! So, it's not hard to see why she gets so much joy from these interactions.
Around the home, Heather has placed memory boards and various pieces of her mother's art. This helps Margaret continue to the feel the joy from past activities.
Heather mentions that Margaret can be seen looking at these items with a smile on her face. We can assume this is helping Margaret stay relaxed even when not engaged in activities.

Using purposeful activities to enrich a loved one's life, while also helping them live more comfortably, definitely outweighs the use of harmful, sedating antipsychotics.
Rather than turning to medications as a first intervention, using purposeful activities in your dementia care is better for your loved one, and can also be fun for you. It's a winning combination.
Be sure to visit Heather's blog, Creative Carer, or her Facebook page to see wonderful examples of their activities.
Do you have activities you do with your loved one that improves their life with dementia? Please share in the comments below.