If you've taken my online course, or read my articles on improving the home for someone with dementia, then you know Stimulation and enriching activities is one of the four important elements I talk about.
Stimulation brings joy, lifts one's spirit, and results in feelings of purpose and accomplishment. Finding the right activities for your loved one can be a challenge, and you must stay creative and persistent in your attempt to find what makes your loved one happy.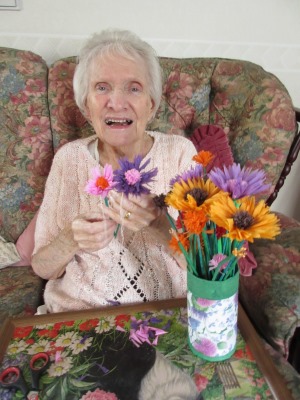 Heather O'Neil's mum was diagnosed with mixed dementia in 2012. On her Facebook page and her blog, Heather has been gracious to share many of the activities she has found help her mum stay active and engaged.
In the TinT article, Three Therapies You Should be Using Daily in Dementia Care, Heather talks about how crafts benefit her mum. Heather has agreed to allow me to share this easy-to-follow video series of her and Mum making paper flowers.
---
"Crafts have given her back a way of expressing herself, and provide her with a real sense of accomplishment."
---
We're very fortunate to have Heather and Mum agree to share their "trade secrets" with us:
---
"Scheduling quality time together every day is so important; time to sit together and relax with crafts or music, or going out in nature to an animal park – these times are so special."
---
"When my mum is immersed in her crafts her artistic flair re-emerges and she has noticeable moments of clarity."
---
Green fingers are not required, but they might be better than having a green thumb 

---
"Making crepe-paper flowers is one of her favorite hobbies. She is very proud of her flowers & loves having something to give to people who admire them. The doctor's office, memory clinic, friend's houses are all brightened up with her pretty flowers."
---
An Alzheimer's Friendly home includes purposeful activities as shown in these videos. I truly believe stimulation that keeps the individual happy and engaged is the best way to reduce undesirable emotions and behaviors. And, the accompanying love and companionship empowers everyone to fight back.
– mike good
---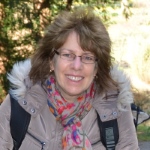 About Heather O'Neil: She is the primary caregiver for her Mum who was diagnosed with mixed dementia in 2012. Heather is very passionate about discovering ways to maintain her mum's quality of life, and sharing her discoveries with others. She blogs and shares many of these great ideas on her site Creative Carer  and her Facebook page – be sure to stop by and like her page.
---
If you like what you've read, why not receive periodic updates when you:
Subscribe to the TinT Newsletter
---
Questions or thoughts? Let me know by commenting below: