Editors note: It was pointed out to me by a reader (see comment at bottom of article) that "music therapy" and "art therapy" refer to specific health care modalities with rigorous training, certification and licensing requirements for practitioners. This article is not intended to replace the value and impact a certified therapist offers.
Contributing Writer: Heather O'Neil, caregiver and founder of Creative Carer
My mum was diagnosed with Mixed Dementia in 2012 and since then I have been on a mission to find ways that I can help her maintain a good quality of life. I am constantly researching, desperately looking for ideas to stimulate her mind and keep her happy.
I have come across 3 Therapies that have helped us considerably – Art Therapy, Music Therapy and Pet Therapy – we now use all three in our daily routine.
Not only are these therapies good for the person with memory problems, but also for their carer.
Scheduling quality time together every day is so important; time to sit together and relax with crafts or music, or going out in nature to an animal park – these times are so special.
My mum soon forgets where we have been so I create photo boards for her wall. It's lovely to see her looking at the pictures smiling… just like she smiles when we are on our trips out 🙂
My mum was an accomplished artist who had exhibited her paintings when she was in her 20's. She passed on her love of the creative arts to me & I graduated in 1984 with a degree in Art & Textile design.
Over the years art took a back-seat in my life and only resurfaced when I discovered how invaluable it is for those with memory problems.
Art Therapy is now well recognized for enhancing the quality of life for Dementia patients and I have embraced it wholeheartedly over the last 2 years.
Every day we schedule time for a creative project; making paper flowers, hand-made cards, or sewing lavender sachets. My mum is never happier than when she is being creative, and I have found that she is now more relaxed and less agitated.
Crafts have given her back a way of expressing herself, and provide her with a real sense of accomplishment. When my mum is immersed in her crafts her artistic flair re-emerges and she has noticeable moments of clarity.
Making crepe-paper flowers is one of her favourite hobbies. She is very proud of her flowers & loves having something to give to people who admire them. The doctor's office, memory clinic, friend's houses are all brightened up with her pretty flowers.
Unlike jigsaw puzzles or colouring books that are tidied up or put away, the flowers are all over the house! Beautiful ever-lasting reminders of time spent being creative together that I will always cherish!
My mum has always loved singing and was in the church choir as a child. In her early twenties she was in a music group that put on wonderful performances which she can remember very clearly.
I have discovered that Music Therapy is increasingly a key feature in dementia care.
A recent study has proved that music boosts brain activity and evokes emotion. It can alter moods, manage stress and reach parts of the damaged brain in ways that other forms of communication cannot.
My mum and I regularly attend 'Singing for the Brain' sessions (run by the Alzheimer's Society across the UK). I also make sure that we have her favourite old era music on in the background at home, or in the car.
She absolutely loves a good sing song and although her short term memory has completely gone, she can remember all the words of her favourite songs!
There have been many studies recently on the benefits of contact with animals for people with dementia. Research suggests that Pet Therapy reduces agitation, lowers blood pressure and heart rate and boost levels of the feel-good hormone, serotonin.
For my mum, I believe the main benefit to be improved mood and decreased anxiety.
Getting out in nature is a therapy in itself and so at least once a week I take her out to visit an arboretum, animal park, or simply to feed the ducks at the local river.
My mum has always been an animal lover – over the years she has had a variety of pets from cats and dogs to turtles and donkeys! Her only pet now is a Ragdoll Siamese cat, 'Gabby', who is the love of her life. He follows her wherever she goes and sits with her while she is working on her crafts.
I hope and pray that my mum will continue to be able to engage and enjoy all her hobbies. I will do all I can to keep these Therapies going and make the very most of my time with her.
To care for those who once cared for us is one of the highest honours.
---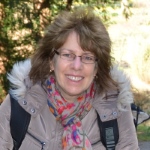 About the author: Heather O'Neil is the primary caregiver for her Mum who was diagnosed with mixed dementia in 2012. Heather is very passionate about discovering ways to maintain her mum's quality of life, and sharing her discoveries with others. She blogs and shares many of these great ideas on her site Creative Carer  and her Facebook page – be sure to stop by and like her page.
---
If you like what you've read, why not receive periodic updates when you:
Subscribe to the TinT Newsletter
---
What activities have you discovered that help you and your loved one? I love to here from you, so please comment below: