Contributing Writer:  Ben Atkinson-Willes, Founder & CEO at Active Minds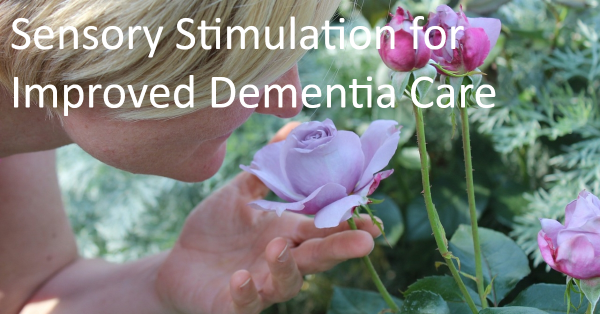 Recently, there has been a huge amount of research looking at the benefits of multi-sensory stimulation in the treatment of Alzheimer's disease and dementia.
It has been proven to decrease agitation, increase mood, help with restlessness, as well as improve sleep.
It is for this reason that dementia activities which use multiple senses can be especially effective.
But what do we mean by multi-sensory stimulation?
Sight
Sight is arguably one our most important senses. It is through this sense that we gain the most direct information about our surroundings.
Visual stimulation can undertake many forms, be it light, color, motion, or shapes. This visual tapestry will help calm and relax a person living with dementia.
Visual stimulation can also be something as simple as an image, perhaps a photograph from the past, such as their wedding day.
This can then encourage conversation as the person living with dementia reminisces about that day.
Sound
Sound stimulation has been proven to alleviate stress, agitation, and raise mood. It is for this reason that music therapy has long been introduced in dementia activities.
Playing a piece of music from the past has incredible power when it comes to triggering memories in people living with Alzheimer's disease and dementia.
When we hear music, we store the information in our 'procedural memory' (associated with repetition and routines).
Dementia destroys our 'episodic memory' (specific events in our lives) leaving our 'procedural memory' intact, thus the memory of music remains.
Therefore, when a familiar piece of music is played to a person living with dementia, it triggers a memory, which elicits feelings of happiness, which in turn helps calm and relax the individual.
Smell
Smell, or olfactory stimulation, is an incredibly powerful tool in the treatment of Alzheimer's disease and dementia. It conjures memories of people, events or emotions.
Introducing certain scents, like a perfume or strong food, may prompt a memory, and this in turn will lead to a conversation.
The person living with dementia can reminisce about that memory, the people in the memory and perhaps the emotions that are evoked.
This can be hugely beneficial when communicating with a person living with dementia, as it can provide focus to a conversation, and further help relationships between a loved one living with dementia and their family.
Similarly, a scent may simply trigger an emotional reaction, like feelings of happiness or contentment. An inward reflection that needs no words but simply brings joy.
Taste
Unfortunately, as we age our sense of taste can sometimes deteriorate. That doesn't mean that gustatory stimulation should be ignored, but rather it should be tempered.
Focus should be placed on food or drink with strong tastes, such as spices or herbal teas. This taste stimulation is similar to smell, and will spark memories and encourage reminiscence.
Touch
Whilst touch may not seem like the most powerful of our senses, especially when it comes to dementia treatment, it should not be ignored.
Every object has a 'feel', whether it be soft, hard, smooth, etc. Whatever the 'feel' is, the nerves in our hands send a message to the brain, so any type of tactile stimulation is in fact stimulating the brain.
So, introducing objects of various textures and then discussing the feel of those items is an incredibly beneficial activity that helps stimulate the brain.
At Active Minds, we spent a long time researching the benefits of stimulating multiple senses whilst developing our activity products for dementia. Using this research, we created Scentscape, an activity product for people in the mid to late stage of their dementia journey.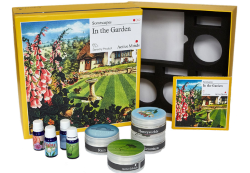 We are incredibly proud of Scentscape, as it offers a unique multi-sensory experience, using sound and smell. Each kit comes with four scents, four smelling jars and a 30min CD with specific sounds of a theme.
Each CD is split into 4 different sections, which relate to the four different scents. The combinations of both sound and scents instantly transport people to that place, stimulating memories and conversation that would otherwise have been difficult to reach.
Our range of Active Minds dementia products have been created with the knowledge that multi-sensory stimulation is a powerful tool in the treatment of Alzheimer's disease and dementia.
---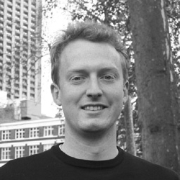 About the Author: Ben Atkinson-Willes was inspired to create Active Minds, a successful business supplying activity kits for people with dementia.
Ben's drive was born out of his experience caring for his grandfather who lived with dementia for 16 years. Ben and his family noticed as time progressed, the challenge was finding things to keep his grandfather occupied.
To meet his grandfather's needs, the family were forced to use children's toys which Ben and his family found extremely patronizing.
With Ben's wealth of experience and passion, he understands the positive impact that tailored resources can make to the day-to-day well-being of somebody with dementia.
---
If you like what you've read, why not receive periodic updates when you:
Subscribe to the TinT Newsletter
---
Have you used activities or other approaches to include sensory stimulation in the care you provide? Please feel free to share in the comments below: