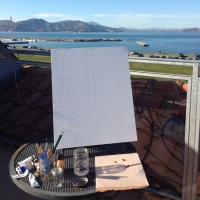 For the care partners (the person with dementia and their caregiver) living with Alzheimer's disease or another dementia, their worlds will quickly shrink if they do not overcome the fears and emotions associated with the disease.
Too often, they isolate themselves from engagement with others. As a result, they find themselves with only each other to interact with on a daily basis. Even in a relationship not affected by Alzheimer's, this is typically a remedy for failure as each person begins to wear on the nerves of the other.
---
---
Maintaining relationships with other people brings variety and new experiences to our lives. These interactions are important to most people's livelihood and helps us maintain purpose and individualism.
These relationships also provide breaks from one another which help both individuals to refresh and find more joy when together. Maintaining happiness is much easier when there is meaningful engagement in both lives.
I expand upon this in my article, How to Create Meaning in Dementia Care, which was published by Next Avenue.
---
If you like what you've read, why not receive periodic updates when you:
Subscribe to the TinT Newsletter
---
Have you discovered activities that help keep you and your loved one active and engaged, or do you have a question? Please comment below: