Assistive, cutting-edge technology geared for the Alzheimer's care partnership is scarce. I'm really disappointed by the lack of involvement big companies seem to show when it comes to developing technology that is needed. The increased design complexity required for older adults and especially those with dementia tends to drive companies away. As a result, big companies tend to only stick their toes into the water due to the lower profit margins.  Based on the lack of products, part of me believes they only do it for the publicity.
An underlying goal of mine at Together in This is to work with the dementia community to identify technological solutions that can be developed to help. My plan is to discuss concepts and listen to your feedback. I hope you will share your ideas and wishes along the way.
Technology can help
It won't fix things, but it does have the potential to make things a little better. If designed properly, technology can help ease the pains of family caregiving while helping the care recipient remain safe, independent, and enriched.
Categories for Alzheimer's assistive technology
I believe that this technology falls into one of 4 categories:
1)   Caregiver peace-of-mind,
2)   Caregiver empowerment,
3)   Patient empowerment, and
4)   Patient enrichment
So let me share my view on these categories:
Caregiver peace-of-mind
Nobody has the time to devote 24 hours, 7 days a week to caregiving but we need the peace of mind to know that our loved one is safe and happy. Technology in this category primarily includes monitoring devices such as camera systems, GPS trackers, or fall detection devices. I like to refer to these technologies as "guardian" devices because they allow us to "keep an eye" on the care recipient. This also seems to be the area where most companies are focused.
Caregiver empowerment
The goal here is to empower the caregiver with the knowledge and tools to manage issues. This includes everything from legal documents to behavioral patterns. These technologies tend to take the form of software solutions such as a website, smart phone app, or a spreadsheet. Some solutions even help the care circle communicate events and issues to one another in a timely manner.
Patient Assistance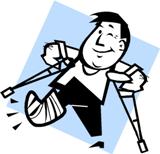 The patient needs to be empowered to be successful when performing activities of daily living (ADL). This is a tough area because there's no "one size fits all" solution since every patient is so different throughout the stages of dementia. Moreover, the ability to learn is lost and they eventually go through a process of unlearning – the opposite of a child. Also, because of the added complexities associated with dementia, the human factors (ergonomics) associated with aging in place and activities of daily living are more involved.
Technology in this area is either passive or intelligent. This is definitely an area that I will elaborate on in upcoming articles. But for now, let me explain what I'm thinking.
A passive device is like the clock that displays that it's Monday morning rather than showing the time of day or a pill box used to organize medications. The success of these products depends upon the care recipient's ability to remember and/or rationalize the purpose of the device.
Intelligent solutions are continually being developed by the government and universities. These solutions, however, tend to be too complex and expensive to bring to the consumer market so we typically don't see the benefit at home.
For an intelligent system to be useful with a demented patient, it must provide what I've coined as Computer Initiated Engagement (CIE). When we use a computer, we "engage" it. However, a person with special needs requires the computer to "engage" them. Even caregivers, who are in the throws of giving, need something to nudge (engage) them at times.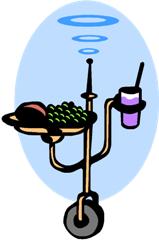 These assistive, intelligent solutions can help augment the role of caregiver by providing unsolicited nudges, reminders, and comfort to the patient when needed. Imagine a system that can engage the patient, when needed, and adjust based on the patient's emotions at the time. I truly think there is great potential in this area but to be able to come up with an affordable, adaptive system with CIE will be an expensive endeavor.
I assume that we all have heard about the cool robots that perform this way but I'm not talking about robots replacing caregivers (that idea is so short sighted). In my opinion, these robotic solutions just aren't practical or cost effective. Sure someday, everyone will have a personal robotic assistant but we need to simplify these ideas and make them affordable now.
Patient Enrichment
This is the area that gets me most excited. We must create purpose and help them achieve the things they can do and not focus on things they can't. When they can no longer do purposeful things on their own, we must find ways to lift their spirit.
During the early stages, this involves helping them remain socially active for as-long-as possible and creating projects with purpose. During the later stages, enrichment comes through sensory stimulation and reminiscence techniques. All of this needs to occur without increasing the burden on the caregiver.
To reduce the burden on the caregiver and patient, the system must be somewhat "automagic". And during the later stages of the disease, it needs to provide the ability to reminisce through music, pictures, and videos. It must also provide stimulation in other ways. I'm still working on how that will be possible but I have some ideas. Ideally, it will be able to determine their mood and adapt accordingly by using the latest emotion-detection software.
No matter how good the technology, at some point in the process of decline, there will always be a need for the caregiver to help. This personal interaction will always be the best enrichment of all because it touches our spirit in ways technology can't.
Thank you for reading my synopsis on the 4 categories of assistive technology for the Alzheimer's care partnership. Do you think I'm on track or not?
If you like what you've read, why not receive periodic updates when you:
Subscribe to the TinT Newsletter
Please share your thoughts with me in the comments section below so that we can fight this together, because we are all Together in This.