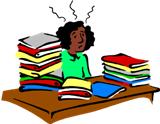 In all likelihood, your career already takes an enormous amount of your time and energy. You had it under control and were happy with your work-life balance. As such, you would never have chosen to take on another job because that just wouldn't be smart.
The job of caregiving was thrust upon you. Nevertheless, as with any other responsibility, you take great pride in doing your best – no excuses. But everyone has limits and something has to give.
Two places at one time
Assuming you can't afford to quit your job, you have to take steps to identify your limitations and put systems in place so that you can remain successful. Caring for someone with Alzheimer's does not get easier, only harder. Without these systems, your performance at work and your loved one's care will both suffer.
According to a 2013 report by the Alzheimer's Association, 65% of employed dementia caregivers said they had to go in late, leave early, or take time off. I imagine the other 35% have a spouse or sibling that fall in the 65%. Also, the report says 20% had to take a leave of absence.
Looking at the stats below, you can see the challenge ahead of you:

"2013 Alzheimer's Disease Facts and Figures", Alzheimer's Association
Knowledge is power
Unless your management team has experience caring for someone with Alzheimer's, they will likely be insensitive to your plight. This is especially true for men who are not generally viewed as caregivers. Because of your management's lack of knowledge, you need to be a step ahead of them. Do this by studying your employer's policies regarding time off and caregiving. If written policy is unclear, you may need to visit with your human resources department for clarification.
Also, spend time researching state and federal laws related to caregiving. Laws are more complicated so use this link, Eldercare.gov, to find you local state department on aging and simply call them.
Company Size Matters
The larger the company you work for, the more likely they will have policies that benefit you. Conversely, the smaller the company, the less likely they will have policies that benefit you. Also, laws tend to be different depending on the size of the company. For instance, the federal Family and Medical Leave Act (FMLA) of 1993 provides benefits for all employees that work for companies with 50 or more employees. This law guarantees workers 12 weeks of unpaid leave with retention of full medical and dental benefits. For more information on FMLA, check out the link at the bottom of this article.
Get your ducks in a row
You really can't anticipate how caregiving is going to affect you until you understand your loved one's situation. You need to sit down and analyze their needs and resources (covered in the next step listed at the bottom of this article). This planning takes work and like any plan, you will need to adjust it as things change.
Once you are prepared, have a talk with your supervisor. Don't approach them by telling them what the policy is and how it's going to be. Instead, start by simply telling them about your situation. Plant the seed. Let them think about it. As needs arise, try to inform your supervisor ahead of time. Unplanned absences are what cause the most discord with management.
Balancing your career with caring for someone with Alzheimer's will not be easy. At times, you will have to set a priority which means something may not be done to your high standards (or your supervisor's). You can, however, minimize these shortcomings by being prepared and putting systems in place to augment your caregiving responsibilities.
This link will take you to the United States Department of Labor's website where you can find more information regarding FMLA, specifically fact sheet 28 towards the bottom:
Family and Medical Leave Act
---
If you like what you've read, why not receive periodic updates when you:
Subscribe to the TinT Newsletter
---
Questions, comments, or perhaps other ideas? In the comments below, I would love to hear from you.