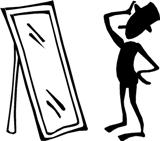 A self evaluation of the primary caregiver involves 3 steps, and as discussed in my article, How to Create a Patient Daily Care Plan, is the first step in getting started.
Assessing your abilities and limitations will enable you to properly supplement your support with other resources such as family, friends, or paid services.
Step 1: Evaluate your schedule
Lay out your weekly, monthly, and annual schedule. You are not going to think of everything in one sitting. So consider grabbing one of those extra wall calendars you received this year and sit it by your lazy boy. Fill it in a little each night.
Be sure to include personal time for yourself. If you do not allocate "me time", you will eventually become overwhelmed and you may even start to resent the care recipient. If it gets to this point, their care will invariably suffer.
If you take a vacation each year, include it. If you go to church, volunteer, or spend time with friends, include it. Also, be sure to capture any time that you spend caring for others such as children and/or a spouse.
Step 2: Evaluate your abilities
Your plan needs to accurately reflect your abilities both physically and emotionally as a caregiver. List any physical limitations that you may have. For instance, if you have lower back pain, you shouldn't be lifting heavy objects such as a fallen loved one.
Or maybe you don't drive. List anything that may prohibit you from being able to care for your loved one especially in an emergency situation.
Next look at your emotional abilities. Remember that caring for a person with Alzheimer's will push your emotions to extremes that you have likely never experienced.
Be honest with yourself. Are you a very patient person or are you easily agitated? Maybe you struggle with depression or maybe you're always happy.
Although this area of self evaluation is sensitive, have someone close to you review your self assessment. Putting too much responsibility on yourself will cause the plan to break down.
Step 3: Evaluate your financial and legal situation
Caring for a person with Alzheimer's or other form of dementia will likely have both financial and legal implications for you. In order to minimize any negative implications, you must fully understand your own state of affairs.
This will help you to make informed decisions throughout the caregiving experience.
As the primary caregiver, it is your responsibility to provide the best care possible for your loved one. Your self evaluation will help you identify where additional resources are needed; thereby protecting your health and livelihood while providing optimum care for your loved one.

Here are 3 good resources to help you organize your financial and legal affair.  These resources should also be use when you evaluate your loved ones state of affairs.
For a comprehensive list of documents to be thinking about, check out this list from AARP:
Important Documents
This tool from Caregiverslibrary.org can help you organize these documents:
Legal Document Organizer
This tool also from Caregiverslibrary.org can help you calculate your financial situation:
Financial Calculator
Next Step: How to Perform an Evaluation of the Care Recipient
---

---
If you like what you've read, why not receive periodic updates when you:
Subscribe to the TinT Newsletter
---
Questions, comments, or perhaps other ideas? In the comments below, I would love to hear from you.
Legal: This website is provided as a service. The material and information available on TogetherInThis.com is provided without any guarantees, conditions, or warranties as to its accuracy. The information is provided as an information resource only, and is not to be solely relied on for any legal, financial, diagnostic, or treatment purposes. At all times, the proper professionals should be consulted. Together in This does not accept any responsibility for any loss which may arise from reliance on information contained on this site.