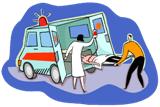 A medical action plan explains to all care providers how to proceed if the care recipient's health declines. Having an action plan in place when caring for a person with health issues is vital in ensuring their health and safety.
As discussed in my article, Patient Care Plans – A Vital Tool for Caregiving, a care plan is comprised of 3 components:
It's quite possible that your loved one suffers from multiple ailments. Maybe they are diabetic, suffer from a food allergy, or have a form of dementia such as Alzheimer's disease.
Whatever their situation, as their care circle grows, it's imperative to make sure that everyone knows how to deal with each medical situation that may arise.
The medical action plan has three sections: 1) patient information, 2) emergency contacts, and 3) detailed action steps for each health issue. Click here to access our form for completing a Patient Medical Action Plan.
Patient Information
This section reflects basic patient information as well as their current health condition.
Emergency Contacts
This section identifies who to call in case of emergency. This includes both a primary and secondary contact. Information for the care recipient's physician as well as the closest hospital should be included.
Health Issue Action Steps
In this section, each health issue has a separate action plan. Most health issues have mild, moderate, and severe signs and symptoms. These symptoms should be identified in the appropriate column.
If the symptom requires self care, details about this care must be provided. Not all issues will have symptoms in all 3 columns and self care may never be appropriate.
It is highly recommended to have your loved one's physician review this document.
The final plan must be posted in an obvious location where it can easily be seen, such as on the refrigerator. Every person in the care circle must be aware of its location and familiar with the included information.

A medical action plan helps to ensure that when any symptoms strike, there is a plan of action readily available for whomever may be caring for your loved one. Sometimes the symptoms are minor and only require observation.
Other times, it may be a life or death situation. Regularly reviewing and updating this document will ensure that whatever the situation, there is a plan of action that anyone can follow.
Because thinking of all the scenarios can be tough, take a look at this example document to help you plan.  Do not use this as a substitute for creating a personalized action plan!
Medical Action Plan Examples
In case you missed it, here is my Patient Medical Action Plan form.
Continue reading this series by selecting this article:
Patient Daily Care Plan
---

---
If you like what you've read, why not receive periodic updates when you:
Subscribe to the TinT Newsletter
---
Questions, comments, or perhaps other ideas? In the comments below, I would love to hear from you.
Legal: This website is provided as a service. The material and information available on TogetherInThis.com is provided without any guarantees, conditions, or warranties as to its accuracy. The information is provided as an information resource only, and is not to be solely relied on for any legal, financial, diagnostic, or treatment purposes. At all times, the proper professionals should be consulted. Together in This does not accept any responsibility for any loss which may arise from reliance on information contained on this site.