Patient Care Plans – A Vital Tool for Caregiving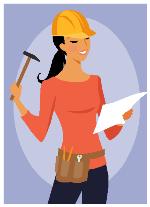 Whether your loved one is rehabilitating, has an age-related disease, or has a progressive illness such as Alzheimer's, without a care plan in place their quality of life will suffer at some point.
Considering the complexities of providing in-home care for a person with dementia, this could be an everyday problem.
Why have a care plan for the person with Alzheimer's?
A care plan helps to insure that the mental and physical well-being of the care recipient is maximized at all times by combining the goals of the care recipient, their family, and other care partners.
A care plan also reduces caregiver stress by providing direction as well as a means of communication. A clearly written care plan will benefit anyone with special health care needs and those caring for them.
The caregiver role
As the primary caregiver, you have the role of project manager for development and execution of the care plan. To be successful, you must bring all of the stakeholders together and incorporate their skills, goals, and responsibilities into the plan.
It is also your responsibility to keep the care recipient involved in the process while they still can.
There are 3 components of the Patient Care Plan:
Each component is developed individually and comes together into one document. In order to stay relevant, these components must be reviewed and updated periodically.
Update intervals will vary per patient but a defined schedule for reviews should be written in stone; i.e. once per month, every other month, etc. If possible, assign someone other than yourself with the responsibility of ensuring completion of the review cycle.
After all, you need nudges too especially if you are dealing with a progressive illness such as Alzheimer's disease or other form of dementia.

Medical Summary
This component is a collection of patient information which enables care providers (doctors, family, friends, etc) to make medical decisions on a daily basis or in the event of an emergency.
Medications, health issues, prior medical history, and contact information for care partners is just some of the information included.
Medical Action Plan
This component covers the information on how to provide treatment to the care recipient if their health should decline for any reason. This can include minor changes that can be cared for in the home or emergency situations that may require immediate emergency action.
At the beginning of the document, you will find some basic patient information followed by emergency contacts. The main section of the plan identifies any special health issues along with the associated signs, symptoms, and action.
Daily Care Plan
This component helps to insure that the daily needs of the care recipient are met. A daily care plan may be simple when dealing with rehabilitation or during the early stages of Alzheimer's. However, if the health of the care recipient decreases and independence declines, the plan will become much more complex.
Generally, the various goals of care are identified and prioritized. This process involves laying out all of the patient needs and assigning an available resource (unpaid and paid caregivers) to fill the need.
For instance, if mom has to have her hair done every Thursday, is someone available to help? Or what if dad likes to play cards at the senior center on Tuesdays? How can you ensure that he gets to and from there safely?
In the later stages of dementia, this list can be exhaustive because it basically covers everything a person does during a given day. Start with the high priority items such as appointments and work your way down to the less important items.
Remember, however, that what you think is less important may be the thing(s) that bring joy to your loved one. For instance, you may think it's not important for you mom to watch Oprah, but for her, it's something she looks forward to daily.
Creating a plan is an investment of time that with perseverance will pay huge dividends. A well-thought-out care plan will help maximize the quality of life for both the care recipient and YOU, the caregiver.
Follow-up articles in The Patient Care Plan – An Essential Tool for Caregiving Series:
---

---
If you like what you've read, why not receive periodic updates when you:
Subscribe to the TinT Newsletter
---
Questions, comments, or perhaps other ideas? In the comments below, I would love to hear from you.
Legal: This website is provided as a service. The material and information available on TogetherInThis.com is provided without any guarantees, conditions, or warranties as to its accuracy. The information is provided as an information resource only, and is not to be solely relied on for any legal, financial, diagnostic, or treatment purposes. At all times, the proper professionals should be consulted. Together in This does not accept any responsibility for any loss which may arise from reliance on information contained on this site.